Cotillion is a series of ballroom dance-social courtesies-dining etiquette classes for Middle School (5th-8th grades) and High School (8th graders optional) offered Monday evenings at the conveniently located Best Western/Seacliff Inn Aptos, (October 15, 2012-March 11, 2013).  The free introductory first class on Oct. 15th includes traditional punch and cookies; the remaining classes will include dining etiquette training featuring select dinner courses, culminating with a formal 4-course dinner at the last class (a 2-hour class). The Parent Show Party is the final class. We also offer College-age & Young Adult Cotillion Dinner/Dance Classes at The Palm Deli, Aptos dates TBA. Private, Semi-Private, "Manner Up!" Group Class, & Birthday Tea Party Dining Etiquette Classes are held at The Quail & Thistle Tea Room, dates & times to be arranged with prospective students. Please note dietary restrictions on the Contact Page, thank you!
Cotillion Class Times:
Monday Evenings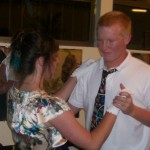 (Dates listed below)
Middle School 5th-8th Grades: Receiving Line and
Instruction from 7:00pm-8:00pm.
High School (and optional 8th Grade): Receiving Line and
Instruction from 8:00-9:00pm.
Aptos Seacliff Inn 2012-2013 Class Dates & Dining Etiquette Menus:
October: 15th (Introductory Class, punch & cookies), 29th (Cup of soup)
November: 19th (Salad, roll w/butter)
December: 3rd (Holiday Party-Spaghetti)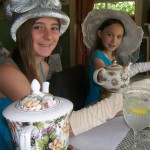 January: 28th (Chicken tenders)
February: 25th (Special 2-hour class: Formal Dinner Dance 5:30-7:30pm for 5th-8th grades, 7:30-9:30pm for High School)
March: 11th (Parent Show Party 7:00-8:00pm for 5th-8th, punch & cookies; Dance Party 8:00-9:00pm for High School, punch & cookies)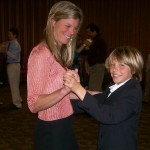 Every class, except for the punch & cookies class, begins at the formal tables for dining etiquette instructions and review, then continues with basic ballroom dance and social courtesies interactions.