Cost
• Aptos Seacliff Inn 5-8th grade Courteous Kids Class or High School/J.C. Considerate Teens Class:  $260.00 for the 2014-2015 session classes (ballroom dance, social & dining etiquette every class, with one 2-hour dinner-dance party). Class size limit: 24- 28
September Sign-Up Special: $250!
• Returning students get a $10.00 rebate check when signed up in September!
• Refer a new student who signs up in September and receive a $10.00 rebate check! (see details below)
• The 2nd, 3rd (and so on) siblings get a $10.00 rebate check, too!
Single Session Classes (Makes for a fun party!)

•
"Manner Up, College Style!"
Collegiate & Confident Dinner Class
:  $50.00 per person for a 2-hour dinner/dining & social etiquette/ballroom dance class. Class size 10. Reservations for Sunday evening,
 7/13/14, 
6:00-8:00pm. Please make reservations 1 week prior.
Private/Semi-Private Sessions for any age: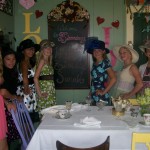 • Private Sessions:  $80.00 per hour, plus meal & tip cost
• Small Group Sessions:  $50.00 per person, 4-8 students, 2-hour Tea , Dining Etiquette Class.
•"Manner Up, Teens/Pre-teens!" Dining/Social Etiquette Courteous Kids & Considerate Teens Tea Luncheon Class:  $40.00 per person. Class size 10. Fall classes: 9/7, (10/12), 11/9, 12/7 1:00-3:00, (or email through the contact page to reserve your youth team/group event one month in advance, we can accommodate larger groups). Please make reservations 1 week prior.
• Birthday Tea Party:  $400.00 (8 children or 6 teens) See Gallery Page-Tea Party invitations picture for more information.
Refund/Rebate Policies
All Seacliff Cotillion 6-class fees will be returned minus a twenty dollar bookkeeping fee until 30 days prior to 1st class. From September 14th and prior to Cotillion classes, if there is a cancellation, the vacated position in the class must be filled with another student.  Once the vacated position is filled with another student, fees will be returned minus a $20.00 bookkeeping fee.  After Cotillion begins September 15, 2014 at Aptos Seacliff Inn, fees are not refundable.  Rebate policy: new referred student must sign up for all (Middle School) or (High School) classes and pay in full (if new student cancels then rebate is void).  Discounts stated above also apply to new student.  After the first class, rebate will be prorated. For rebate, note your student referral/sibling on Contact Page online message form. No refunds, rebates or discounts for Single or Summer Classes. Rebates mailed after first class in October. To sponsor a child for Cotillion in "Friends of Cotillion," sign up here and on the Contact Page.
Cotillion classes must be paid in advance to reserve your place in a class. You will receive an email confirmation for your class after your registration form and payment have been processed.  Please call 831-688-5678 if you have any questions. Scroll down to find your class & tuition: